In a historic series, The World-Herald selected Nebraska's Top 100 athletes.
The Top 100, selected in 2005, came from a pool of more than 450 names from the ranks of high school, college, amateur, and professional sports from the past 130 years. Assistance came from a panel of veteran sports observers from across the state, with the newspaper's sports staff determining the final rankings.
Also, click here to see the complete list of the Nebraska 100 considerations, as well as those Nebraska athletic greats who didn't qualify.
We would like to take this opportunity to congratulation our very own Dr. Cahoy.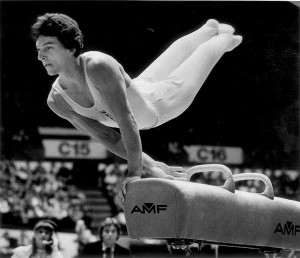 Phil Cahoy
Gymnastics / Omaha / Born: 1961
QUICK FACTS:
Played for: Omaha South High and Nebraska Cornhuskers
Best athlete from Nebraska played with or against: Jim Hartung
Best moment as an athlete: "It's two-fold. Obviously, making the 1980 Olympic team was a big highlight. But also it was just being a member of the University of Nebraska teams that dominated the college scene back then. Jim and I each were on teams that won four national championships — a stretch of five national championships in a row."
An early sign of greatness: "I was about 12 when Jim Hartung and I went to a national competition in Fort Worth, Texas. He's a year older, and we were in different age groups. Jim won his age group. I came in second to Jim Mikus of Pennsylvania, who later became a University of Nebraska gymnast. That was the first inkling that we were on the right path. It was our first gymnastics meet where top kids competed against top kids."
Now an orthopedic surgeon in Grand Island who specializes in sports medicine, Phil Cahoy knows the depths of despair to which an injured athlete can sink.
Cahoy's bid to join lifelong friend Jim Hartung on the 1984 Olympic team was sabotaged by a dislocated ankle and torn cartilage in his shoulder. Those injuries prevented him from the all-out training needed to regain his spot on the 1984 team that he earned in 1980.
"That was my most disappointing time, not being able to train as hard as I needed to do," Cahoy said. "You've got to be good as well as lucky. There are a lot of guys who probably would have been better gymnasts than either Jim or I. But injuries ruined their careers. You see that in every sport."
Cahoy draws on his experiences with top-of-the-world success and end-of-the-world injuries when he treats athletes. He is team doctor for the U.S. men's gymnastics team, and he works with the Kansas City Chiefs.
"I tell them that injuries happen," he said. "I encourage them to fight through it. I try to get them back on their path again."
Cahoy earned four NCAA national championships — two on the horizontal bar and two on the parallel bars — despite being 6-foot-1. Unlike football or basketball players who always try to pad their dimensions, Cahoy was always listed as being 5-11.
"Being tall is such a disadvantage for gymnasts. Your arms are so much longer, and it's harder to make the strength moves. But some body types are made for gymnastics. Jim's body was perfect. We're still like brothers. I would do anything for him."
–Larry Porter
Read the original article at http://dataomaha.com/neb100/player/57